Double Knit Fabric is a durable jersey knit that offers comfort, durability, softness, and stretch.
It can be used in sports apparel, loungewear, and winter outfits. Often, this fabric is made from wool, cotton, or polyester blends. It's also a good choice for garment sewing projects that require durability and structure, such as jackets, cardigans, and suits.
Double knit fabrics are thicker than normal knits and offer firm stability that rivals woven fabrics. They are constructed using two different sets of needles, which create loops on both the back and front of the fabric, intertwining so that they will not separate. This method of construction is what gives the fabric its structure. It is commonly used for clothing such as dresses, skirts, and sweaters.
The most common type of double knit is interlock. It is a very dense, heavy knit that is easy to sew and doesn't roll as much as other lighter-weight fabrics. This makes it a good choice for novice knitters who are new to sewing with this fabric. It is easy to find patterns that call for this type of fabric, and it can be found in a variety of colors and patterns.
Another popular double knit is Pique. It is a slightly heavier version of interlock knit and features a more defined ribbed texture. This type of fabric is ideal for making tops and pants as it offers a bit more body than other knits. It can also be used to make skirts and dresses that are a little more structured than those made from lightweight jersey knits.
This type of knit is sometimes called "Ponte di Roma," although it can go by many other names, including Ponte, rioja, and jersey. It's possible to find this fabric in a wide variety of weights, with lightweight versions working well for dress and top sewing while heavier weights can be used for bottoms or jackets.
A variation of this knit is a brushed jersey knit, which has a soft and warm texture that is great for cold-weather clothing. This is usually made from wool, cotton, or a combination of both and may have a napped reverse side. The fabric is easy to work with as it doesn't tend to roll, and it can be pressed flat like other knits.
When it comes to cleaning this type of fabric, it should be washed according to the fibers used in its construction. While double-knit fabric generally withstands dry cleaning, it's best to wash it in cool water with mild detergent. It can be ironed in a medium setting, but it should not be overheated. It can also be machine washed on a gentle cycle. After washing, the fabric should be rinsed thoroughly and dried flat. This will help to avoid any shrinkage and keep the fabric looking fresh. After laundering, the fabric should be treated with a stain remover to avoid any further set-in stains. The fabric can then be stretched to its original size and stored.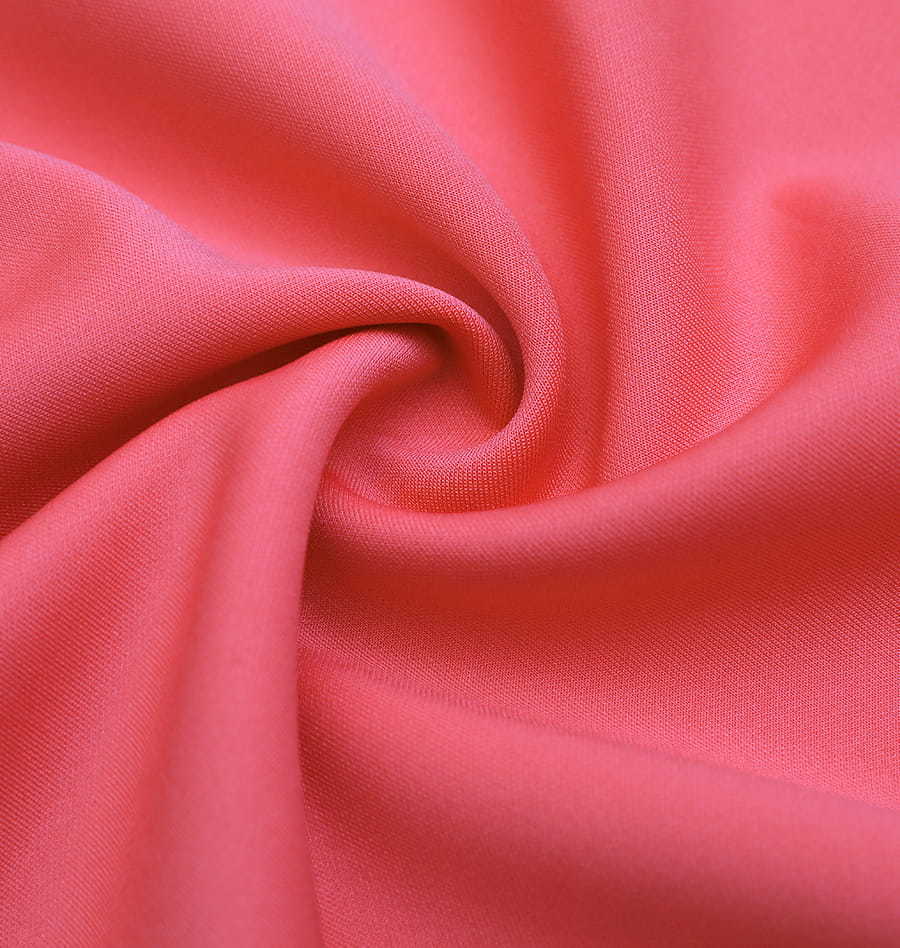 20D Polyester air layer double knit fabric S11016-D-20
20D Polyester air layer double knit fabric
Width: 155CM
Weight: 280GSM